October 1, 2 Lower Sacramento trip
Submitted by Josh Schwartz on October 10, 2011
We spent two days on the Lower Sac with clients Jeff D. and Jim W. from Granite Bay. We fished the top end on day one. We hooked quite a few fish the largest of which hammered the egg patterns.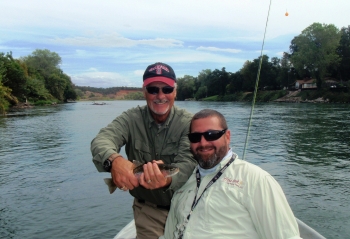 Success is sweet!
Most of the other fish ate either mayfly nymphs or suggestive Caddis patterms. The weather was a bit cloudy and although we only saw one Salmon they are most definitely on their way.....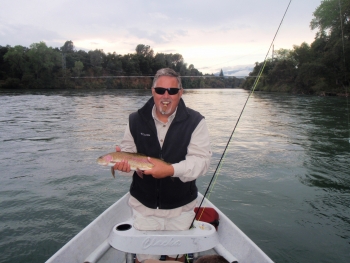 Jeff with a colorful Sac Bow
Day two we went down river below Anderson. Jeff was hoping to hook a steelhead down by Battle creek. We played hopscotch with a few boats in the morning. Definitely hooked more fish but none were very big....until the last cast of the day when Jeff got his Steelhead.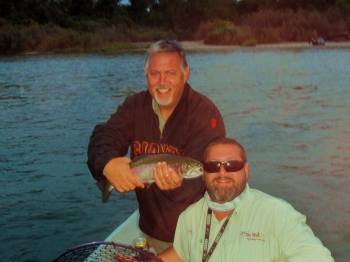 Like all good Giants fans Jeff was rewarded for his patience and perserverence!
Great job guys...way to end the trip.....lots if salmon lower in the river. With the forcasted storms moving in expect the egg bite to start up very soon...
Joshua
Salt Water
Ready to book your fishing adventure?
Contact Us
(530)242-4122 Office
(707)287-2939 Cell
Josh Schwartz's blog
Blogs