The Yuba River is on!
Submitted by OTHFFB on July 16, 2011
The Yuba River is finally down to just over 3,000 cfs. The guys have been hooking good numbers of fish to 22 inches on both dries and nymphs. This is a great time to get out and give the Yuba a go!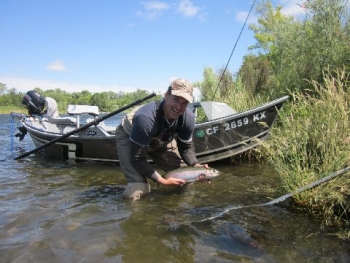 Glen's personal best
Glen J. from Los Angeles recently spent the day on the Yuba with us and caught several nice fish including a nice summer run Steelhead! Way to go John and Glen!
Off the Hook guide John Barry with Yuba Chromer
Salt Water
Fresh Water
Ready to book your fishing adventure?
Contact Us
(530)242-4122 Office
(707)287-2939 Cell
OTHFF Home Blog
Off the Hook Fly Fishing's home blog covering all things fly fishing - information, fishing reports, techniques, tips, cool links, and ramblings.
Blogs