Putah Pays Off
Submitted by Jordan Romney on July 19, 2011
This morning I was treated to taking out a 15 year old kid named Jack. Jack told me that he had done quite a bit of fly fishing already though neverbecause in "Northern California. I could tell by the way he said it that he was already afly fishing addict.
After the first five minutes of watching him roll cast, mend, and read the water I could tell that he was a stud. I told him what a challenge Putah Creek can be but if you get technical you can do pretty well. I took us a couple of hours to find the fish but once we did we caught fire.
Jack's first hook up was a 20" rainbow that he fought well. It eventually took him under some rocks a popped loose. He looked disappointed until I assure him that he did everything right but sometimes fish spit flies and that's part of the game. A casts later he was hooked up again on a 17" female that we got to the net. Snapped a few pics and then taught him how to properly release a fish.
With in the next hour Jack hooked fish left and right. We ended up landing 7 and loosing a few more. The smile on this kids face will not be forgotten.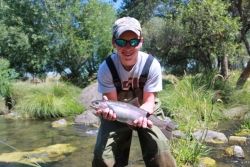 Jack H Putah Bow
Salt Water
Ready to book your fishing adventure?
Contact Us
(530)242-4122 Office
(707)287-2939 Cell
Yuba "Egg Bite" Group Trip October 7 & 8, 2011
Off the Hook Fly Fishing hosted an energetic group of 8 anglers last weekend on the Yuba River here in Northern California. The group was fantastic and made up of young professionals most of which had known each other for years. Their personalities, viewpoints and vocational experiences were as unique as their past fishing experience.
Everyone trickled in Friday afternoon to the campground. A significant portion of the participants were brand new to fly fishing so after camp was setup, we broke out the fly rods and yarn flies for casting class. Even the brand new guys picked it up casting quickly. Once everyone was up to speed we decided a little hike was in order while dinner was being prepared. On the evening's menu were three delicious tri-tips from the infamous Buckhorn Steakhouse, huge baked potatoes with all the fixings, and grilled corn bathed in butter. All of this washed down with some tasty adult beverages. For dessert we had a variety of goodies but the main course was a decadent chocolate birthday cake for Dustin R. one of the participants. Once everyone was finished eating some good old fashion story telling took place over beer and wine around a crackling campfire.
We woke up early o" clock Saturday morning so we could be the first boats on the water. Fishing a group of this size takes some additional planning and maneuvering on the river. After meeting up with the guides everyone got suited up and hit the river. What an amazing day it was! Temperatures were cool first thing in the morning. The bright morning sun and the cups of java however went a long way towards waking tired bodies. The clean crisp air and anticipation soon had us focused and excited for the day's experiences. With a heave the boats took off. It was merely a few moments before "fish on, fish on!" was echoing up and down the canyon from the boat I was in. This time of year sees Salmon make their yearly migration into California's rivers. Resident fish like the trout in the Yuba key in on this and move in behind the salmon to feast on any eggs that tumble astray. We fished rubber legged stone fly nymphs and caddis pupa, but the egg patters seemed to be the best producers. Four of the 8 guys caught their first(and second and third…) Trout on a fly rod on this trip! Our guides love sharing our passion for fly fishing and the ecosystems that trout inhabit with newcomers!
By mid day Temps warmed to the high 70's and at one point waders became a little warm and rumor has it that there were boats floating down the Yuba River with guys fishing in their boxer shorts! The group met back up in the afternoon to enjoy the remainder of the long float together. It was great to see the camaraderie and have fly fishing be the draw that brought many of these life long friends back together again. After comparing notes and numbers, the consensus was that everyone had a fun and memorable day!
Thanks gentlemen for the great trip and for all the laughs! You are all welcome in our boats any time!
Thanks,
Jordan
--------------------------------------------------------------------------------------------------------------------------------------
Off the Hook will be putting more group trips together soon. Check back in for dates or to join us on our next adventure.
Have a group that you would like to get out on the water? We offer great rates for corporate trips, bachelor/bachelorette parties, and birthdays. Contact us about planning an unforgettably fun adventure for your group. We will rely on over a 100 years of collective fly fishing knowledge and experience to direct you to the best possible fishing experience no matter your fishing experience. Northern California offers exceptional year round fly fishing opportunities and will handle all the food, guides, lodging and transportation to fit your budget.
Yuba "Egg Bite" Group Trip October 7 & 8, 2011
Blogs