Mission Lodge, fly fishing Alaska in Style.
The Lodge at Mission Bay is easily considered to be Alaska's finest fly-out fly fishing lodge operation. Located in the heart of the Bristol Bay region of southwest Alaska, they are within easy flying distance to the finest waters in the state. Depending on the week you will target five species of Pacific Salmon, Rainbow Trout, Arctic Char, Dolly Varden, Arctic Grayling, Lake Trout and Northern Pike and most any combination thereof.
If you and your group are interested in a first class luxury experience, without comprising great fly fishing, this may well be your kind of place. Mission Lodge is committed to providing the best service possible with the ultimate goal being that you have an exceptional top nich experience while catching lots of fish in breathtaking surroundings!
Non-fishing activities include: Hiking, Wilderness/flight-seeing for animals such as bears, walruses etc.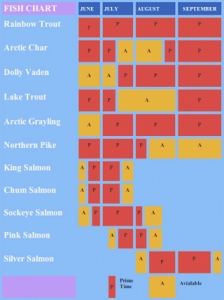 Trip Costs
$7,100 for 8 Day/7 night package
All inclusive Lodge packages
Private room accommodations
Alaskan Gourmet meals
Sauna & Hot tub and message available
2:1 Angler to Guide Ratio
All equipment provided (waders, rods, reels, & flies)
Three Float Planes (DeHaviland Beavers)
Twenty plus years in operation
Click here for more information about Lodge and Amenities.
Planning your Trip
To reach the lodge is pretty straight forward. Fly from your nearest airport to Anchorage, Alaska. Then fly from Anchorage to Dillingham, approximately one hour. In Dillingham you will be greeted by the staff who will transport you and your luggage to Lake Aleknagik in private shuttle vans. You will transfer to boat and enjoy a scenic and rather quick ride across the lake to the lodge. The staff will whisk your gear to your room, while you shake hands with the hosts and then pick up your fishing license and sample appetizers.
Because of flight schedules to and from various points in the lower forty-eight, it may be necessary to overnight in Anchorage either on the way in, way out or both.
Gallery
Get the flash player here: http://www.adobe.com/flashplayer
Salt Water
Ready to book your fishing adventure?
Contact Us
(530)242-4122 Office
(707)287-2939 Cell
Blogs