Hewlett Packard group score fly fishing on Putah Creek!
Submitted by OTHFFB on January 10, 2012
Bob Burkhardt(software sales at HP)and his fearless group joined us for a fly fishing class on Putah Creek here in the Napa Valley.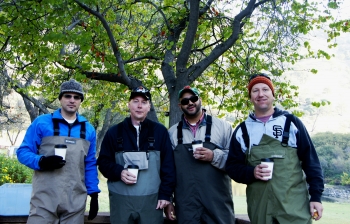 These guys were new to fly fishing and wanted to learn some fly fishing skills and also get some water time. Jordan Romney and Greg Bonovich were the instructor/guides for this trip. The guys arrived surprisingly bright eyed and bushy tailed and ready to go. We were greeted by Canyon Creek Resort Staff with hot coffee and yogurt and croissants. The guys were a quick study. After the class portion and a boot fiasco(we were off by a size and a half on one of the guys boots)It was time to hit the water. We split the group between the Greg and Jordan and it was off to the water to find some Trout.


Everyone did well and managed to all get fish! That is saying something on their first day and only spending just over 2 hours fishing, and on Putah Creek no less!


After fishing we took a moment to have a bite to eat. And what a bite it was. Chef Bobby at the resort prepared a great lunch for us. We had clam chowder, home made focaccia bread, wood oven artisan pizzas, ceasar salads and our choice of beer or wine. As Bob put it..."this was a pleasant surprise"


Thanks to Bobby and Ann Marie for your hospitality, and to Bob for allowing us the pleasure of sharing fly fishing with your group! Thanks for the laughs and we hope to fish you guys again soon.
Salt Water
Fresh Water
Ready to book your fishing adventure?
Contact Us
Toll Free(877)CATCH77(228-2477)
Local (707) 287-2939
OTHFF Home Blog
Off the Hook Fly Fishing's home blog covering all things fly fishing - information, fishing reports, techniques, tips, cool links, and ramblings.
Blogs