Fly Fishing Mexico's Ascension Bay, in Punta Allen, Yucatan Peninsula
Ascension Bay Bonefish Club is a lodge that caters exclusively to fly fishermen especially those interested in pursuing the elusive Permit. Although Bonefishing is exceptional on the pristine sand flats of Sian Kaan's 1.3 million acres bio-preserve, it is the Permit that brings experienced fly fishers back year after year.
Anglers willing to put on blinders to all the other species available here and focus on this fly fishing prize are often rewarded with success. Regardless if you are a seasoned saltwater angler in search of phenomenal Permit fishing or looking for your first salt water experience, Ascension Bay is a great choice! There is arguably no better place to try for the elusive "super grand slam". (Bonefish, Permit, Tarpon, and Snook in one day)
Fishing & Guides
The ABBC guides have studied these waters for years and have learned well. Their fishing success and repeat customers attest to the knowledge and professionalism of the guide staff. ABBC utilize two guides per boat. One senior guide handles the poling and the other stands with the angler to point out the fish. Both guides are constantly scanning the flats for fish so that our anglers actually have two experienced pairs of eyes in addition to their own searching for fish. They utilize 21' custom fiberglass boats that have plenty of storage and a clean front area with a very stable casting platform. It is amazing how simple, functional, and productive these crafts are, and the success they afford our clients.
Trip Costs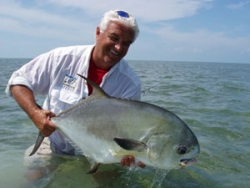 $ 3,500 per person, per week (Based on double occupancy.)
Includes: Shuttle by air conditioned van to and from Cancun International Airport, all accommodations, meals, guides bottled water on the boat.
Excluded: Airfare, gratuities, alcoholic drinks, flies, and terminal tackle.
The Lodge
ABBC's lodge is a comfortable house situated just adjacent the warm azure waters of the Caribbean Ocean. Bedrooms are large and airy, with overhead fans, AC, wireless internet, and mosquito netting equipped beds. Bathrooms are clean and equipped with hot-water showers. Hot Coffee and fresh juice await you each morning and get anglers jump started for another day in paradise. The dining room and adjoining patio are natural focal points for great relaxing evenings and plenty of fishing tales. Although in a remote location the level of service and attention to detail at ABBC will make you feel right at home.
Meals
Traditional breakfasts with some local flair consist of cereal, eggs, bacon, ham, juices, toast and coffee. Box lunches are prepared for the fishing days and typically include sandwiches, fruits, desserts, ice water and other beverages. Varied meals served family style (both American dishes and local Caribbean / Mexican favorites) are tasty, healthy and always ample. They include fresh meats, seafood, chicken, vegetables, fruits and delicious desserts including the famous flan and homemade pies. Bottled water is used for drinking and ice.
Ascension Bay Photo Gallery
Get the flash player here: http://www.adobe.com/flashplayer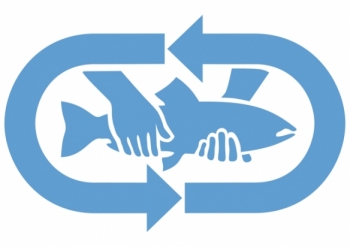 Back to Mexico Page
Salt Water
Ready to book your fishing adventure?
Contact Us
(530)242-4122 Office
(707)287-2939 Cell
Blogs